Cash Management
Save Time and Improve Your Bottom Line
In business, time is money. No one knows this better than small business owners. However, managing all the aspects of your business finances can be time consuming. Our online cash management system, Charter E-Corp, offers a wide variety of tools to streamline your financial management process.
Benefits of Charter E-Corp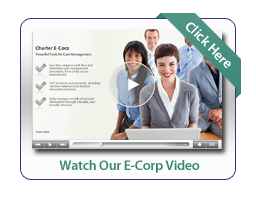 The numerous tools incorporated into Charter E-Corp allow you to streamline cash management processes:
Real-time account balances provide more accurate numbers for reporting purposes
Deposit payroll directly means less printing costs for checks and happier employees
Make payments or collect bills electronically with the ACH Origination feature
Easily make payments or transfer funds using Wire Transfers
Real-time funds transfers allow you to move money across your Charter Bank accounts immediately
The ability to make State and Federal Tax Payments means you save time and money over doing them yourself or through a third party
Use Business Bill Pay to make one-time or recurring payments electronically to any vendor you currently pay by check
Most importantly, all of this utilizes the latest industry-standard security for your peace of mind.
You can learn more about Charter E-Corp's benefits and start the enrollment process by calling or visiting your nearest Charter Bank office today!